29.04.2021
Dushanbe hosted a meeting of the CSTO CCBCD Working Group
28.09.2019
As a result of coordinated actions, according to preliminary data, about 17.4 tons of drugs were seized from illicit trafficking, of which more than 10.4 tons of opium, over 1.4 tons of hashish, more than 137 kg of heroin, more than 1664 kg of marijuana, over 265 kg drugs of synthetic origin.
Dushanbe hosted a meeting of the CSTO CCBCD Working Group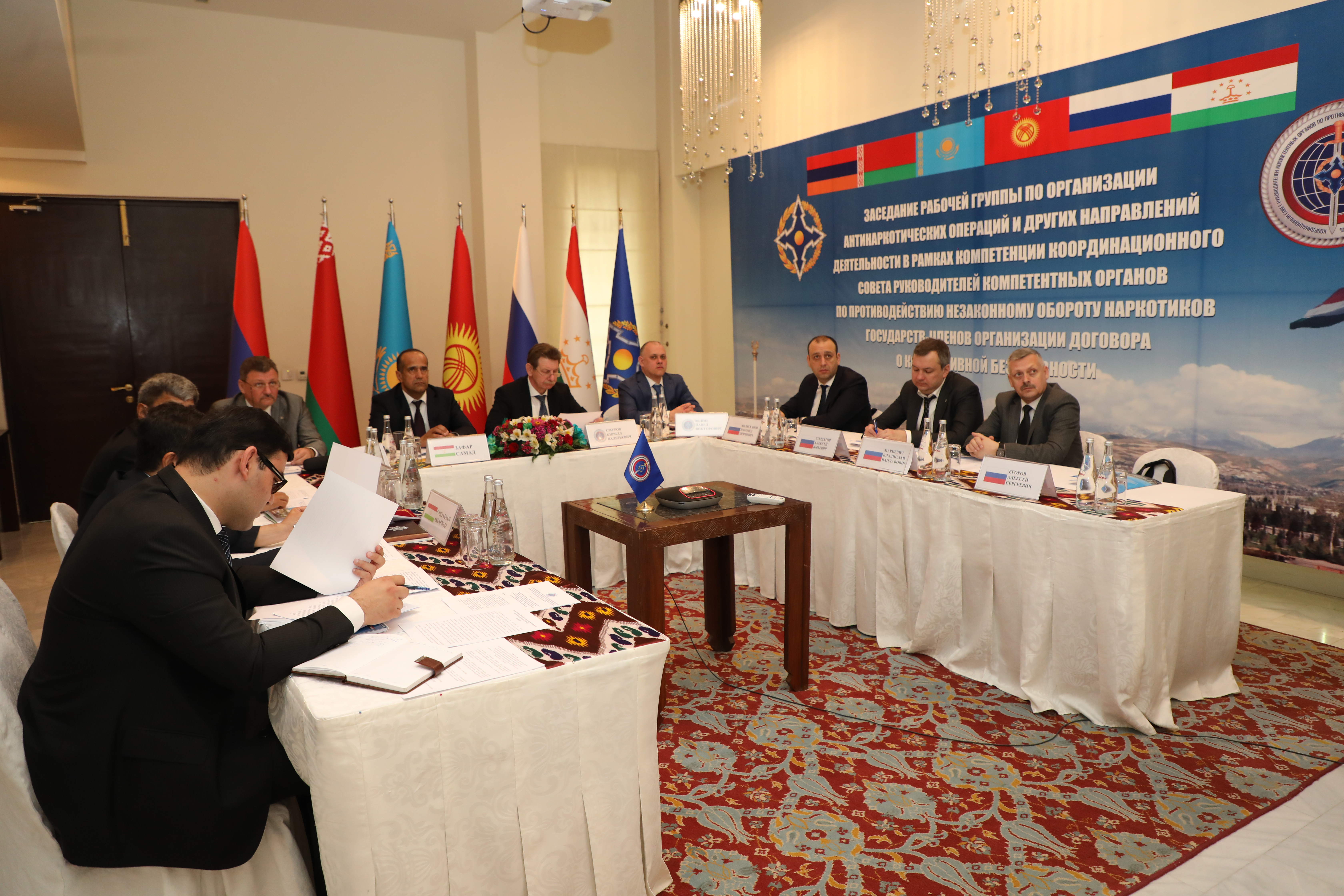 29.04.2021
On April 28, 2021 in the Drug Control Agency under the President of the Republic of Tajikistan, under the chairmanship of the Republic of Tajikistan in the Collective Security Treaty Organization (CSTO) a meeting of the Working Group on the organization of anti-drug operations and other activities under the authority of the Coordination Council of the Heads of the Competent Authorities for Countering the Illicit Drug Trafficking of the CSTO Member States (Dushanbe) was held.
The purpose of the event was to develop the conception and planning of the sub-regional anti-drug operation codenamed "Channel - Granite Bastion" and other activities in the current year.
Representatives of the anti-drug services of the Republic of Armenia, the Republic of Belarus, the Republic of Kazakhstan, the Kyrgyz Republic, the Russian Federation, the Republic of Tajikistan and the CSTO Secretariat took part in the meeting, which was held in person with the involvement of several countries via videoconferencing.
The meeting was opened by Zafar Samad, the First Deputy Director of the Drug Control Agency under the President of the Republic of Tajikistan, who delivered his welcoming remarks.
The parties have discussed issues related to the deployment of the International Coordination Staff of the operation in the Republic of Tajikistan.
There was an exchange of views on the specific of the drug situation in 2020 and in the first quarter of 2021.
Representatives of CSTO member states studied best practices in the worsening epidemiological situation associated with the spread of coronavirus infection (COVID-19).
The Russian side provided data on preparations for the sub-regional operation called "Channel-Nevsky Shield" to place the International Coordination Staff in the Russian Federation.
In the course of the meeting the issues of planning of active phases of "Channel" operations in 2022, preparation for the 23rd meeting of the CSTO member states, special training with the formations of special forces of the CSTO Collective Security Treaty Organization "Thunder - 2021" in the Republic of Armenia were discussed.
Information on the results of the Coordination Meeting of the Chief Narcologists of the CSTO member states (16 April, Dushanbe) was taken into account.
The competent authorities of the CSTO member states have started the implementation of the CSTO member states' Anti-Drug Strategy for 2021-2025.
At the end of the meeting a protocol was agreed upon.